Getting the server Hardware ID
First, decide which computer you will use as a licence server.
Install Indigo Renderer (which can be downloaded from http://www.indigorenderer.com/download) on your server.
Run the "Indigo Network Manager" on the server.
(For example, on Windows, this can be accessed Start -> All Programs -> Indigo Renderer -> Indigo Network Manager)
Press the Licensing button, then "Copy to Clipboard" to copy the hardware ID for the server.
Email the hardware ID to support@indigorenderer.com
If you have purchased floating licences, we will reply with the licence file based on the hardware ID and the number of licences purchased.
Using the Licence Key
Once you have received your licence key by email, open up the Licensing dialog in the Indigo Network Manager again. Then paste the licence key into the text field labelled "Enter your licence key".
Finally, press "Verify licence key" and of the licence key is valid, the "licence status" field will display a message similar to the following:
Licensed to 'Nick Chapman'
Email: 'nick@indigorenderer.com'
5 x Network Floating Full

If the licence key is not valid, an error message will be displayed instead in the licence status field; please contact support@indigorenderer.com for assistance.
Using the Floating Licences
Obtain the Licence server's hostname
A hostname is a name used to identify a device connected to a computer network.
See the Network Rendering tutorial, step 3, for more information on this.
Make sure the Indigo Network Manager is running on the licence server, and the licence key is loaded into it as described earlier.
Set up Indigo on your workstation(s)
On your workstation computers, install Indigo Renderer.
Start Indigo Renderer.
Click on the "Options" tool-bar button.
Select the "Network" tab in the options dialog.
Ensure that the "Use network manager" option is checked.
In the "Network manager hostname" field, enter the licence server hostname.
Ensure that the "Use floating licence" option is checked.
Ensure that the "Do master search broadcast" option is unchecked.
Click "OK" to save the changes and exit the options dialog.
Test retrieval of the floating licence
Restart Indigo on your workstation.
When Indigo starts, the Indigo logo and some information will be displayed in the main window.
If the floating licence retrieval was successful, the Licence type will be 'Network Floating Full' and
the Licensed to will be 'Network Floating Licence User', as shown: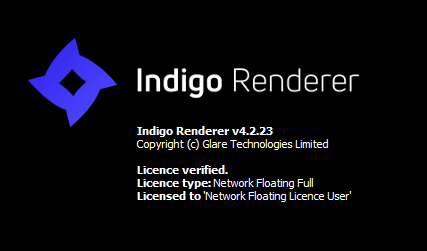 Troubleshooting
Network ports
Some ports will need to be opened on the licence server, so that Indigo running on the workstations can connect to it: TCP Port 7200.
Network manager logging
The Indigo Network manager writes out reasonable comprehensive logs to network_manager_log.txt in the appdata directory, for example C:\Users\nick\AppData\Roaming\Indigo Renderer\network_manager_log.txt.
Looking at this log can give useful information if floating licences are not working.