3ds Max integration greatly improved and extended
Written Friday 25 Oct
IndigoMax, which integrates Indigo Renderer seamlessly into 3ds Max, has seen tremendous progress in the last weeks, with many improvements and bugfixes that make it a joy to use!
The primary developer, Jakub Jeziorski, has been doing an amazing job and we'd like to encourage all 3ds Max users in our community to try out the latest version of IndigoMax, available here.
Material previews are much faster and higher quality, interactive rendering enables a comfortable workflow for making many changes quickly without hitting render every time, and more of the powerful Indigo features are exposed directly to the user. Many important bugfixes have been made, and GPU acceleration is now fully integrated into the rendering settings.
Indigo forum user Enslaver, known in the community for his beautiful abstract renders, has made a great screenshot showing an overview of the new 3ds+Indigo environment: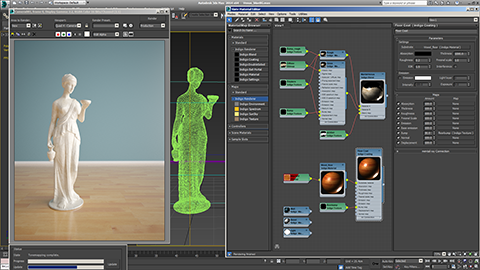 Click for full-resolution image.