An HDR environment map is an image that fully wraps around your scene to create the effect of having a background, and also emits light. It is important that you use an HDR environment map that has good light, especially if it has the sun in it – the sun is many thousand times brighter than anything else and will only cast good shadows if it has been captured right. This technique gives the best results because all the reflections from the materials will accurately respond to the 'environment' as if it were real. But it is difficult to find a good HDR environment map for free – and can be difficult to make your own. I am using an HDR environment map found from openfootage.net
Download an .EXR or .float HDR map. Indigo does not support .HDR files, but there are good converters out there. Try Picturenaut.

Italian field from openfootage
In your render settings, change the environment to Environment Map and set your HDR environment map.
Render! If the environment map is too dark, or not positioned correctly, you can change the gain for brightness, and rotation to change its position.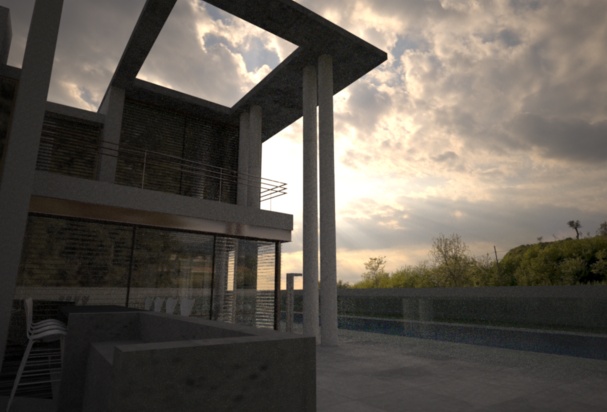 Final render
Results: The scene is effected by the light of the environment map and you can just see reflections of trees from the map in the windows.