The August 2012
Materials and Lighting competition
has been a tremendous success, and we've been looking over the entries with great enthusiasm since last Thursday - thanks to all the participants for the awesome submissions!
It wasn't easy selecting among the many strong entries (be sure to look through the entire
final entries thread
!), however after considerable deliberation we're proud to announce the three winning entrants:
First place: Pibuz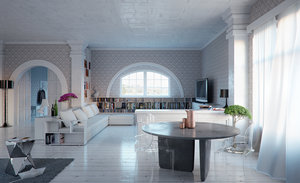 Pibuz (Filippo Scarso) joined the competition early with his astonishingly realistic entries, showing once again why Italian architects are a force to be reckoned with in commercial archviz! The materials used, especially on the ceiling, are exceptionally high quality, and attention to detail can be noticed everywhere.
A change of lighting in the second image submission beautifully illustrates the power of light layers, bringing everything together to secure the win in our Materials and Lighting competition.
Pibuz can enjoy an early Christmas with the following first place prizes:
Second place: Zom-B
No Indigo competition would be complete without an elegant and technical entry by Zom-B (Arthur Staschyk), and it's business as usual with the stunningly detailed, "lived in" living room render that just looks natural and comfortable - a suspension of disbelief that's difficult to achieve in CG without excellent lighting and materials. We'd like to have a sip of that espresso!
Zom-B can add the following spoils to his war chest:
Third place: Mor4us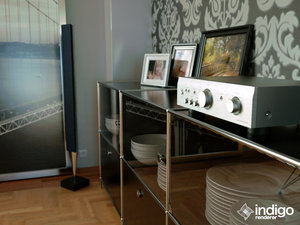 New Indigo user Mor4us' entry is stylish and clean, with an attention to natural lighting and realistic everyday materials. The use of brushed metal, glass and curtain materials in particular is highly effective, creating a believable interior space from the provided base geometry without really complex lighting and material set-up - a great showcase of Indigo's natural-looking, physically-based materials.
Mor4us indeed gets more than just praise:
Some comments on the other entries:
The rodent regent
tar_gniK
delivered a
highly detailed and original recreation room
from the basic scene provided, narrowly missing the top spots due to the strong competition. Undoubtedly a top-notch entry with character and great lighting.
Bosseye
's entry featured a
bold, original concept with a dark mood
, very distinct from the other entries and a great variation on the provided scene.
The different times of day in
vl_dm
's
entry
are well complemented, in particular the city lights outside at night.
Another
creative and fun render
we greatly enjoyed was
polygonmode
's dusty apartment, with the half-done walls, footprints (and hidden Indigo logo!) on the floor and shafts of light coming through the windows. A great effort by a new Indigo user!
The overall mood, use of dusty participating media and interesting background story in
JK
's entry made for quite an
entertaining submission
!
The
burglar breaking into the pristine room
in
Oscar J
's entry is a result of some humourous back and forth in the competition thread, always enjoyable in the Indigo community

We're grateful to
Heiko Schmidt / Impulse
for providing the base scene; it was very interesting to see what the entrants did with it!
It's been an exciting competition and we hope to see you all again for the next one - thanks to everyone who participated, including those who didn't finish in time and provided great community input

Thanks again to our great sponsors for their generous prize donations: