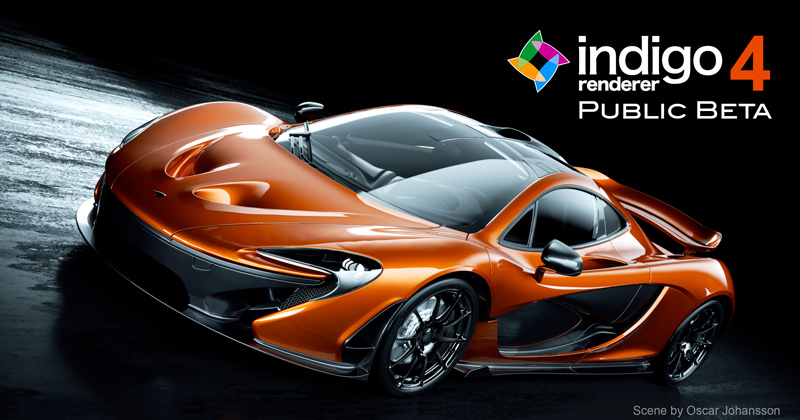 Hi all,
we are excited to announce the first public Indigo Renderer 4 beta release!
We have been working hard on this release. Following 29 private beta releases, we finally feel Indigo 4 is ready for a public beta.
Have we gotten rid of all the bugs? Not by a long shot! However, we feel that you can get useful work done with Indigo 4 right now, and that it's time for a wider audience to test it.
The main new feature in this beta is of course pure (multi-)GPU rendering.
We are using OpenCL to deliver 100% pure GPU rendering, which means very fast rendering on all OpenCL compliant GPUs, including AMD, Intel and Nvidia GPUs.
For more information please see our GPU rendering guide section in the online manual:
http://indigorenderer.com/documentation ... ring-guide
The main point there is that
you must update your drivers before doing GPU rendering, else nothing gets a fair chance to work well
- always-current drivers are
absolutely crucial
to GPU rendering working well, it cannot be overstated!
We'd like to encourage you to download these example scenes, and report your rendering speed in this thread (along with hardware specs):
bedroom-benchmark-2016.pigs
by Arthur Liebnau (
http://www.polygonmanufaktur.de/
)
McLaren_P1_Benchmark_Optimised.pigs
by Oscar Johansson (
https://www.behance.net/OscarJohansson
)
(EDIT: Updated to more optimised version of McLaren scene, old scene is available here:
McLaren_P1_Benchmark.pigs
)
(See renders of these scenes at the bottom of this post)
Please bear in mind that the priority with the GPU rendering thus far has been on getting the functionality going. We expect to do a lot of optimisation work on it in the future, to really push the performance. Expect more beta releases soon!
In addition to the new pure GPU rendering, there are some other new features:
* General optimisations and rendering speedups:
* Most scenes should render faster on the CPU.
* MLT should be a lot faster for simple scenes now.
* OpenGL viewport is a lot faster
* Sped up rendering double-sided thin material a lot.
* Optimised object tree building - see
http://www.indigorenderer.com/forum/vie ... =7&t=13695
* Rewrote much of Indigo's subdivision and displacement - see
http://www.indigorenderer.com/forum/vie ... =7&t=13686
* New image saving options. (check out the 'Image Saving' tab in the options dialog)
* Added pixel info picker to toolbar
* Added a detachable material preview widget
* Oren-Nayar: Added new implementation of the more accurate model, replacing the 'qualitative' model that was being used before.
* Added measured BRDF support
* Added Fast-SSS material
We also have lots of exciting new features still planned for the 4.0 series, such as hybrid photon mapping and configurable firefly filtering. Updating the user interface and adding support for these new features to the exporters is a top priority in upcoming releases.
More information about the new GPU rendering mode
Features not currently supported in GPU rendering mode (we're working on these and they will be supported as soon as possible)
* Architectural glass
* Double-sided thin material
* Glossy transparent material
* Normal maps
* Light layers
Features not currently supported in GPU rendering mode, that probably won't be available in the initial 4.0 release but later in the 4.x series:
* Sub-surface scattering / participating media
* Bidirectional path tracing
* Other render modes / channels: material ID, foreground alpha, depth and shadows
* Sphere primitives
Known issues with GPU rendering:
* Some realtime changes in GPU rendering mode may crash Indigo
* Max path depth is limited to around 8 bounces currently
* Sphere primitives not supported currently
* Sky colour is slightly different on GPU
Thanks to our private beta testers (Zom-b, Oscar J. and kklors) for their bug reports and testing!
Downloads
https://www.indigorenderer.com/forum/vi ... =1&t=14330
The following images are straight out of Indigo 4 without any post-processing (feel free to verify by downloading and rendering the example scenes linked above!), click to enlarge: