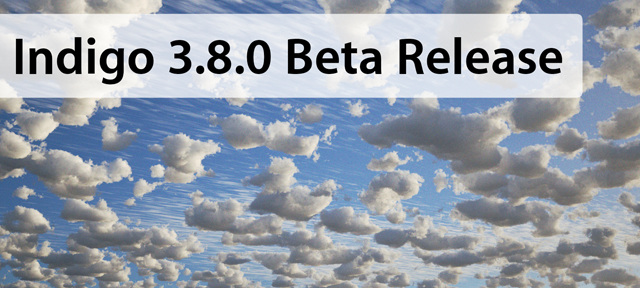 Hi everyone,
We are pleased to release the first Indigo beta in the 3.8 series. This will be a free upgrade for all Indigo 3.x customers.
We have a ton of changes in this beta release. The big ones however are the large speed increases, which, while depending on the scene, may be 80% or more, and the introduction of arch glass, which should be extremely useful, especially for arch viz renders.
Please bear in mind that this is a beta release - don't do work on a deadline with this version as there may be crashes etc..
Arch glass support is experimental, and we will probably be tweaking and improving it.
You can read a little more about some of the changes in this release in these blog posts:
http://www.indigorenderer.com/content/m ... imisations
http://www.indigorenderer.com/content/cloud-render
http://www.indigorenderer.com/content/a ... provements
http://www.indigorenderer.com/content/optimisations
I'll go into more detail on some of the changes (Winter/ISL changes and participating media shader changes) in a later forum post.
Downloads:
Indigo for Windows 32-bit:
IndigoRenderer_3.8.0_Setup.exe
Indigo for Windows 64-bit:
IndigoRenderer_x64_3.8.0_Setup.exe
Indigo for Linux 64-bit:
IndigoRenderer_x64_v3.8.0.tar.gz
Indigo for Mac OSX (10.6 - 10.8 ):
IndigoRenderer3.8.0.dmg
Indigo RT for Windows 32-bit:
IndigoRT_3.8.0_Setup.exe
Indigo RT for Windows 64-bit:
IndigoRT_x64_3.8.0_Setup.exe
Indigo RT for Linux 64-bit:
IndigoRT_x64_v3.8.0.tar.gz
Indigo RT for Mac OSX (10.6 - 10.8 ):
IndigoRT3.8.0.dmg
Changelog:
3.8.0
* Render speed in general should be significantly faster, especially for bidir and on simpler scenes.
* Added 'arch glass' (architectural glass) option for specular materials.
* Rendering of partial transparency (blends with null) is now handled much better.
* Optimised material rendering speed, especially phong material rendering speed
* Loading of large IGS files is now much faster.
* Improved the RGB spectrum editor - Supports RGB, HSV and hexadecimal RGB values.
* Improved light layer UI.
* Added ozone to atmosphere model, for more realistic twilight skies.
* Added MieCumulusPhaseFunction (mie_cumulus).
* Greatly improved rendering of heterogeneous media.
* Heterogeneous media: Removed step_size, added max_extinction_coeff instead.
* Optimised rendering speed of old sky model.
* Texture and shader editor now show material and channel name in title
* Added voronoiDist and randomCellShade functions to ISL_stdlib.txt
* Added IPv6 support to the network rendering.
* Disabled glass accel support
* Stopped building Indigo for 32-bit Linux.

Winter (ISL) changes:
* Shader eval functions, and some others, now require an 'env' argument of type 'opaque'. Old shaders will be automagically fixed up.
* Improved int->real type coercion.
* Improved type coercion for div expressions.
* Made unary minus work for vectors, added op_unary_minus for operator overloading.
* Added new form of if function: 'if then else'. Replaces old if(,,) form.
* Added proving of being well-defined.
* General code-gen improvements for faster shaders.
* Faster compilation of shaders.
Known issues that we will fix soon:
* Possible crash with double-sided thin material and bidir
* shadow catcher pass may render incorrectly